Pennsylvania State USBC
Open Championships
The 81st Annual Pennsylvania State USBC Open will be hosted in 2020 by the York-Adams USBC from April 4 thru June 14.
---
Open Championships Tournament Director
Bryan Hubler
2710 Holland St
Erie PA 16504
Phone: 814-315-1306
Fax: 814-461-2613
E-Mail: bhubler@bowlpa.com
Open Championships History
Tournament Information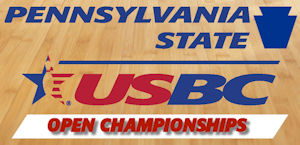 Information and Rules
Complete tournament rules, information and entry form are available here, all docs are in PDF format.
Tournament Info Tournament Squad Schedule & Rules
Online Entry with Credit Card/PayPal payment options!
Entry Form
This is a PDF file that you can complete on your computer, save, print and send in with your entry fees.
Blank Entry Form Fillable Entry Form
Squad Availability
Squad Availability for the 2020 Open Tournament will be posted here.
Travel Information/Hotels & Lodging
Towne Place Suites 2789 Concord Rd. York, Pa. 17402 - 717-840-1180 $99.95
Courtyard by Marriott 2799 Concord Rd. York, Pa. 17402 - 717-840-1180 $89.95
Ask for Katarina and mention "State Championship" for special pricing
Additional hotels can be booked through www.yorkpa.org, but no special rates have been negotiated.
Top/