Mixed Tournament
2020 - 29th Annual Mixed Tournament
The 29th Annual Pennsylvania State USBC Mixed Tournament will be hosted in 2020 by the Seven Mountains USBC from June 13th thru July 26th.
---
Tournament Information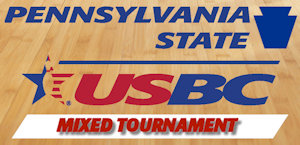 Information and Rules
2020 Information will be posted at a later date. Complete tournament rules, information and entry form are available here, all docs are in PDF format.
Complete Entry Form
Online Entry with Credit Card/PayPal payment options!
Entry Form
This is a PDF file that you can complete on your computer, save, print and send in with your entry fees.
Blank Entry Form Fillable Entry Form
Squad Availability
Squad Availability for the 2020 Mixed Tournament
Travel Information/Hotels & Lodging
Top